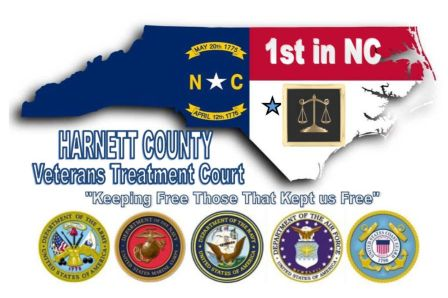 A veterans' court is a "special court" which is charged with trying cases of minor offenses which involve veterans, particularly those diagnosed with service-related illnesses. The first veterans' court was established in 2008 in Buffalo, New York, and has been used as a model for establishments of other veterans' courts in other parts of the United States. The system was created to address those veterans who are consistently facing various charges associated with addiction, homelessness, etc. This special allowance, however, often enables vets who aren't on that group to take advantage of avoiding prison. Also, violent felonies are specifically precluded from consideration. The Veteran's Treatment Court of Harnett County is located at 301 West Cornelius Harnett Blvd., Lillington, NC 27546. You may call them at (910) 814-4515.

ANNOUNCEMENTS:


The Harnett Co. Veterans Treatment Court continues to aid and assist justice involved veterans. As is true of all other NC Courts our operations have been altered to accommodate social distancing during the pandemic. Visitors are welcome, however please call our Case Manager at 910-814-4490 if you intend to visit so we may notify security at the front door of the courthouse. Please understand that space within the courtroom is extremely limited due to distancing and visitors may not be able to find a seat as priority will be given to veterans participating in the court program.
In the event that any reader may know of anyone who may be a candidate (a discharge other than dishonorable, a non-violent crime, etc.) Please contact Mark Teachey at 910-814-4515 to discuss the qualifications in detail.
The most unique quality of the Veterans Treatment Court are the volunteer Mentors. No other courts offer a peer-to peer experience to its participants, not even drug courts. All Mentors have military experience and are provided training to become familiar with suicide prevention, military culture, PTSD, traumatic brain injury, drug/alcohol dependency, moral injury, and more. Mentors will typically spend an hour a week speaking with their assigned veteran. Volunteer Mentors play a critical part in each veterans path to success. To learn more about the Mentor Program call Gordon Harrington, Mentor Coordinator, 919-215-6241.
Veteran's Treatment Court Gives Vets A Second Chance - by Taylor Knopf, North Carolina Health News
Harnett County Veterans Treatment Court celebrates 5-year milestone - by David Crabtree, WRAL anchor/reporter